High Quality Railroad and Great Lakes Ship Videos
We specialize in producing professional, high quality railroad DVDs and Blue-rays and also feature a line of Great Lakes ships DVDs. Our documentaries on railroading and Great Lakes ships, lighthouses, and waterfalls are highly rated by today's railfans and boatwatchers around the world and the programs are very scenic, informational and historical.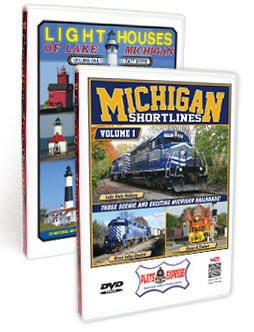 Our line of nautical DVD videos will show you the fascinating ships in action as they sail and work the seaways, lakes, harbors, rivers and locks. The lake boats include steamers, lakers, self-unloaders, 1000 footers, freighters and salties. See the ships in action across the Great Lakes including Lake Superior, Lake Michigan and Lake Huron. At such famous locations as the Soo Locks and Welland Canal.
Our railroad programs feature exciting Class 1's, Regionals and Shortlines including trains with both steam & diesel locomotives from Baldwin, EMD, GE & Alco. A partial list of the railroads include: BNSF, Duluth Missabe & Iron Range, LTV Steel, Duluth Winnipeg & Pacific, Burlington Northern, Soo Line, CP Rail, Canadian National, Norfolk Southern, CSX, Kansas City Southern, Montana Rail Link, Green Bay & Western, Dakota Minnesota & Eastern, Wisconsin Central, Chicago & Northwestern, Elgin Joliet & Eastern, Bessemer & Lake Erie, Lake Superior & Ipsheming, Arkansas & Missouri, Minnesota Commercial, Wisconsin & Southern, Cartier, and Iowa Interstate to name a few.

©2023 Plets Express
Website design and web hosting by First Net Impressions, LLC.